Hey…did you guys know I ran a half marathon last weekend?  You know, if I didn't have some photos and a medal I am not sure I would believe I did it either.
I had been quiet about the race, these last few months, because I wasn't sure if I was going to even sign up in the first place.  Between taking 6 weeks off from running due to my surgery and then only having 5 weeks after that to train, I just didn't think it would be something I could do.  However, I did set a goal for myself to get the Beach Cities' medal (running 3 consecutive beach town half marathons) so I knew if I skipped this one I would have to start all over…that was enough motivation to give it a go.
I'm not going to lie, easing back into running really sucked.  My pace was so much slower and my endurance wasn't where it was prior to surgery and that was very discouraging mentally.  I don't want to say I lost my love for running, but it really did start to feel like a chore.  I ended up only getting two "training" runs in before the race….a 9 miler and a 10 miler.  They gave me enough confidence for race day but I still knew it wasn't going to be enough to get a PR so that fell off of my goal list.  I just wanted to feel good, not walk, and find a way to stay around the 2:00 mark if possible.
Then the worse case scenario happened.  The week before the race Nathan had to go on antibiotics for his chest cough/fever, Shane got a nasty case of croup, and between the lack of sleep and germ infestation I came down with a combination of whatever they had.  Aches, chills, cough, cold and all that good stuff.  I was already worried because of my lack of training, and this just settled it….I wasn't going to do the race.  I asked my sister if she wanted a free race bib and when she said she wasn't feeling well either I didn't know what I was going to do.  I certainly didn't want to waste $130 and I definitely wanted to stay in qualification for my Beach Cities' Medal.  So I turned my house into a CVS Pharmacy and stocked up on anything and everything that could kick this out of my system and tried to get a lot of sleep…the race was on!
The morning of I woke up at 4:15 and got myself together to meet up with my friends Ryann, Whittney and Wendy at 5:45 to make the drive into Huntington Beach together.  Aside from a few coughing fits I was actually feeling better than I had been all week.  I still wasn't very enthusiastic and was really hoping some nerves, adrenaline or excitement would kick in so I could dig deep and find some motivation to do this.
When we got down to the Pacific Coast Highway you could feel the spirit of the race in the air.  15,000+ runners…everyone sporting their bibs, stretching, checking their playlists, lining up in their pace corals, jumping in place trying to stay warm.  In terms of California temps it was a very cold morning.  It was probably in the 40s down by the water and the wind and cloud cover were not helping.  However, the cool air felt good to breathe in and was helping to open up my lungs.  I was starting to think I was ready to run 13.1 miles with my friends!
I had my music blasting in my ears and wasn't even looking at the start line…I was just going to wait to feel the crowd start moving me forward and consider that as my cue that we were on our way.  The push began and I gave my friends a smile and a thumbs up and we were ready to go.  It was very crowded getting started and wasn't even worth trying to start weaving through people.  Once it started to spread out I got into a rhythm that I was comfortable with…. Ryann was a little ahead and Whittney, Wendy and I were doing our best to stick together despite the crowds.  We had all talked about trying to stay together if we could but if one of us felt good…then run with it…and if one of us started to feel bad the others should keep on going.
We stayed like this for the first 2 miles and were staying at around an 8:20 pace.  I was good with that.  I knew that I finished my first half marathon at an 8:33 overall pace so if I could even sustain that as my average for the first handful of miles I would be more than happy to know I maintained that for as long as I could.  I got a little wind in my sail after mile 2 and decided to take advantage of it and go with it.  I learned from my first race that when you feel good….let yourself go and push while you can without trying to overdo it.  I ended up passing Ryann at some point without realizing it, but she quickly came right up behind me and tapped me on the shoulder.  It was so awesome to know we were right there together.  Ryann had been working so hard and I knew she was going to get a PR and wanted to run with her as much as I could for the positive energy because I think she knew she had it in her too.  So off we went…miles 3, 4, 5….side by side…clearing the path for one another around people, holding back to wait for the other if one of us needed water and the other didn't.  I was already imagining us encouraging each other for the rest of the race and crossing the finish line together…and then it hit.  I'm not sure what happened, maybe I was overdoing it, maybe my adrenaline wore off, maybe being sick all week decided to catch up on me but it hit me like a ton of bricks right around mile 6.  My chest tightened up, I became insanely chilled and I was almost about to crawl over to the side of the road right then and there and call it quits.  It was my turn to tap Ryann on the shoulder only this time it was to say I couldn't breathe anymore….go on ahead and go kick some butt without me.
It's like my body put the breaks on me.  I didn't just gradually slow down…I went from running in the low to mid 8's to dipping right down into a 10 minute pace.  I wanted to cry, I wanted to walk, I wanted to feel better, to stop coughing…I didn't know what to do.  The voices in my head were becoming louder than my blaring music, and they were telling me it was time to throw in the towel.  I knew my trainer Timmie was going to be waiting at mile 8 to cheer us all on.  Alright Lauren…at least get to mile 8 and then after that you can walk.  If you need to walk the rest that's ok.  Look at all these people walking, you can join them too.  I couldn't get the obsessive thoughts of walking out of my head.  At this point I wasn't even thinking of how I was going to get to mile 13….I would be happy to make it to mile 8 just to see my trainer and see if she would walk back with me.  I was losing it.
I somehow pushed myself through mile 7 and 8 and frantically searched the crowd for Timmie.  I just wanted to see someone I knew.  It was either going to give me the extra boost I needed or it was going to be my moment to collapse and at least have someone there to catch me and walk me to the finish line.   Just as I was getting ready to turn the bend that leads you back up the PCH towards the finish line I spotted Timmie and b-lined towards her just to smile and wave.  I think I caught her off guard because she had already seen everyone else I was running with awhile ago and probably didn't even know I was still around.  It gave me a quick jolt of energy to see a familiar face, but as I ran towards mile 9 I just started to feel disappointed.  I was alone, my body was so angry at me, my head wasn't in the right place, I was freezing cold, I couldn't stop coughing…I saw a paramedic truck heading towards me on the opposite side of the street and remember wishing it were for me.  I had no idea how I was going to finish these last 4 miles.
Have you noticed I haven't even talked about the course or the scenery?  I honestly couldn't even tell you what my surroundings looked like.  I know the hazy sun was glaring in my eyes, the ocean was to my right, the wind was pushing against me, and the road felt cracked and beaten up under my feet…pretty similar to how I was feeling.  The last stretch of miles were totally straight and I wish I could say flat, but it was a long and gradual uphill.  The crowd support had dwindled by this point too so there really was nothing left to do but look forward to the next mile marker, the next water stop and inch my way closer and closer to that finish line.
The last 3 miles of the race were a total blur.  I still hadn't given in to my obsessive thoughts of walking though and I knew if I could make it to the double digits that I could finish this thing.  I won't say I got a second wind because that would be a generous description but I was no longer feeling desperation….instead I filled my thoughts of crossing that finish line.  When I hit mile 12 I have never felt such relief in my life…the last mile was so dead straight you could actually see the finish line from so far away.  This was both a good thing and a bad thing.  It was good because literally the end was in sight…it was bad because I decided to give it all I had and picked up the pace, just a little too soon.  It was deceiving how close the end was.  I decided to look at the crowd that had gathered, start giving out some high fives, and just look around me instead of focusing on the finish line.  By this point it wasn't about my time (I gave up on that a long time ago) but I wanted to have some fun because I knew it was almost OVER.  I skipped through a few songs to get to "Roar" by Katy Perry and it was just the pick me up  I needed to finish strong.  Arms up in the air I crossed that finish line!  They immediately handed me my awesome surfboard medal and just like that…it was all worth it.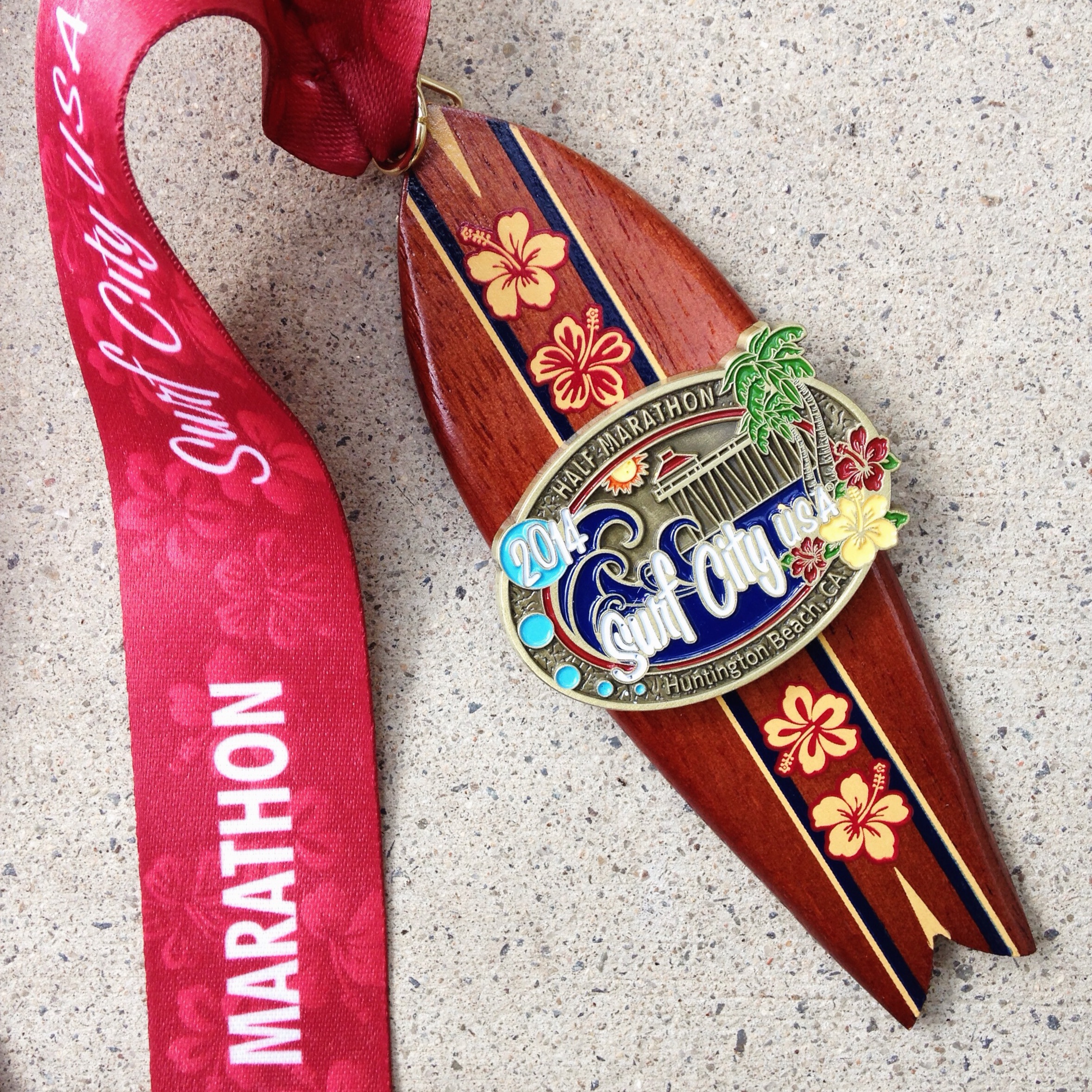 I didn't have that euphoric feeling I had from my first race, but I was a different kind of proud…I had wanted to give up so many times throughout the race, and not once did I give into my head.   I was also incredibly relieved for it to be over and excited to find my friends, wrap myself up in a solar blanket and go get my free beer!  I didn't have much interest in knowing what my official time was, but I knew it was right around 2 hours and I was actually thrilled with that considering the circumstances.  This race totally tested me and pushed to me a point I wasn't quite prepared for physically and mentally.  I am taking this experience and using it as motivation to train hard of the OC Half in May and to hopefully find myself better conditioned both in health and endurance.  For now I will welcome this break from running with open arms because in three weeks it's time to start training all over again.  I'm so ready to bring home that big medal!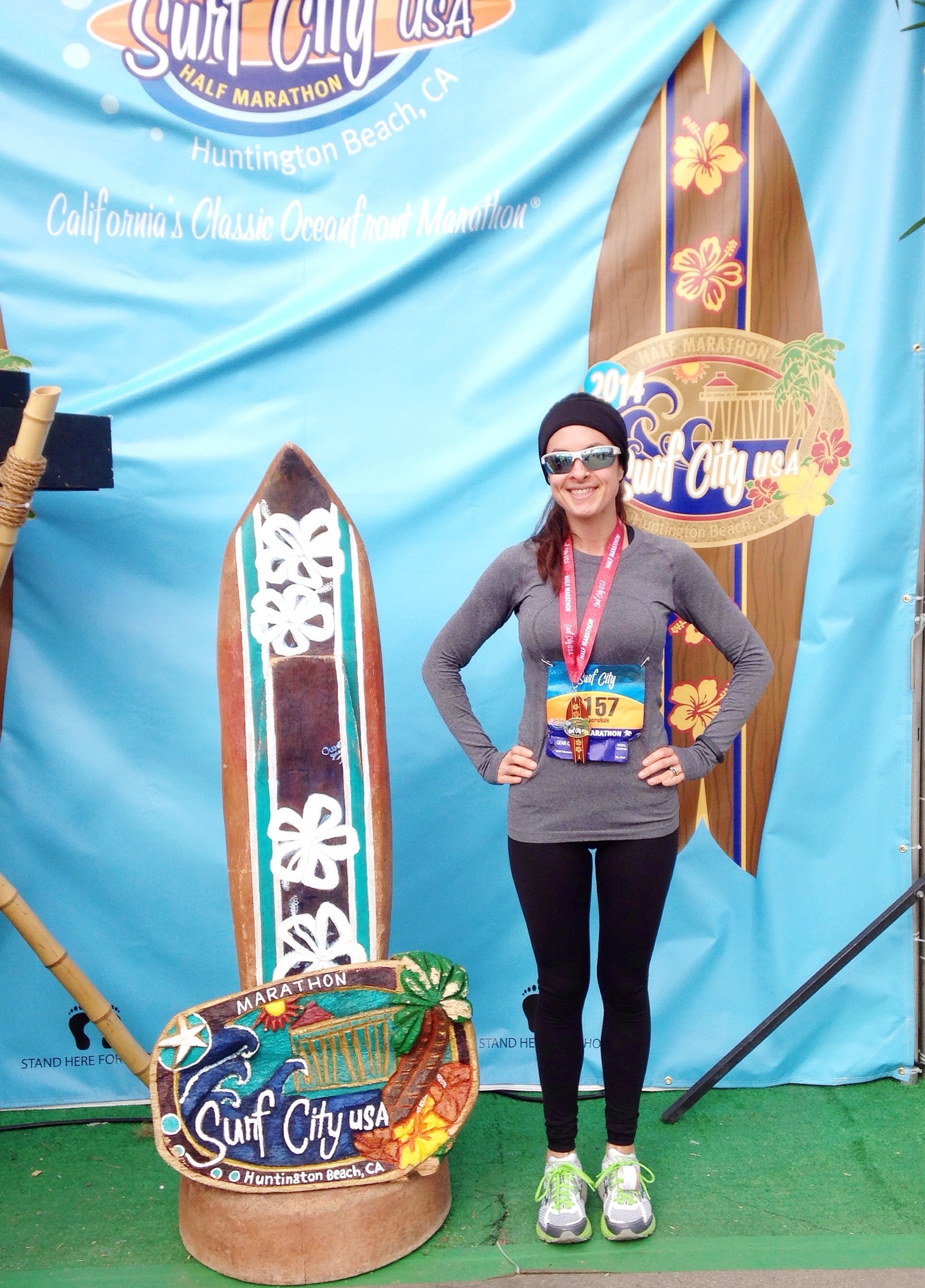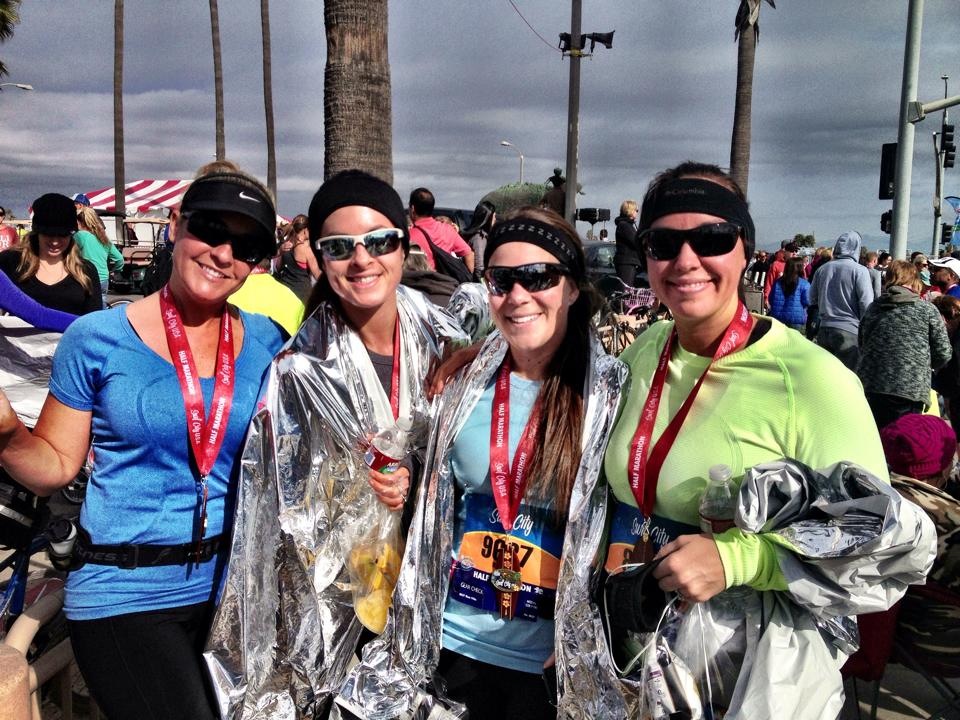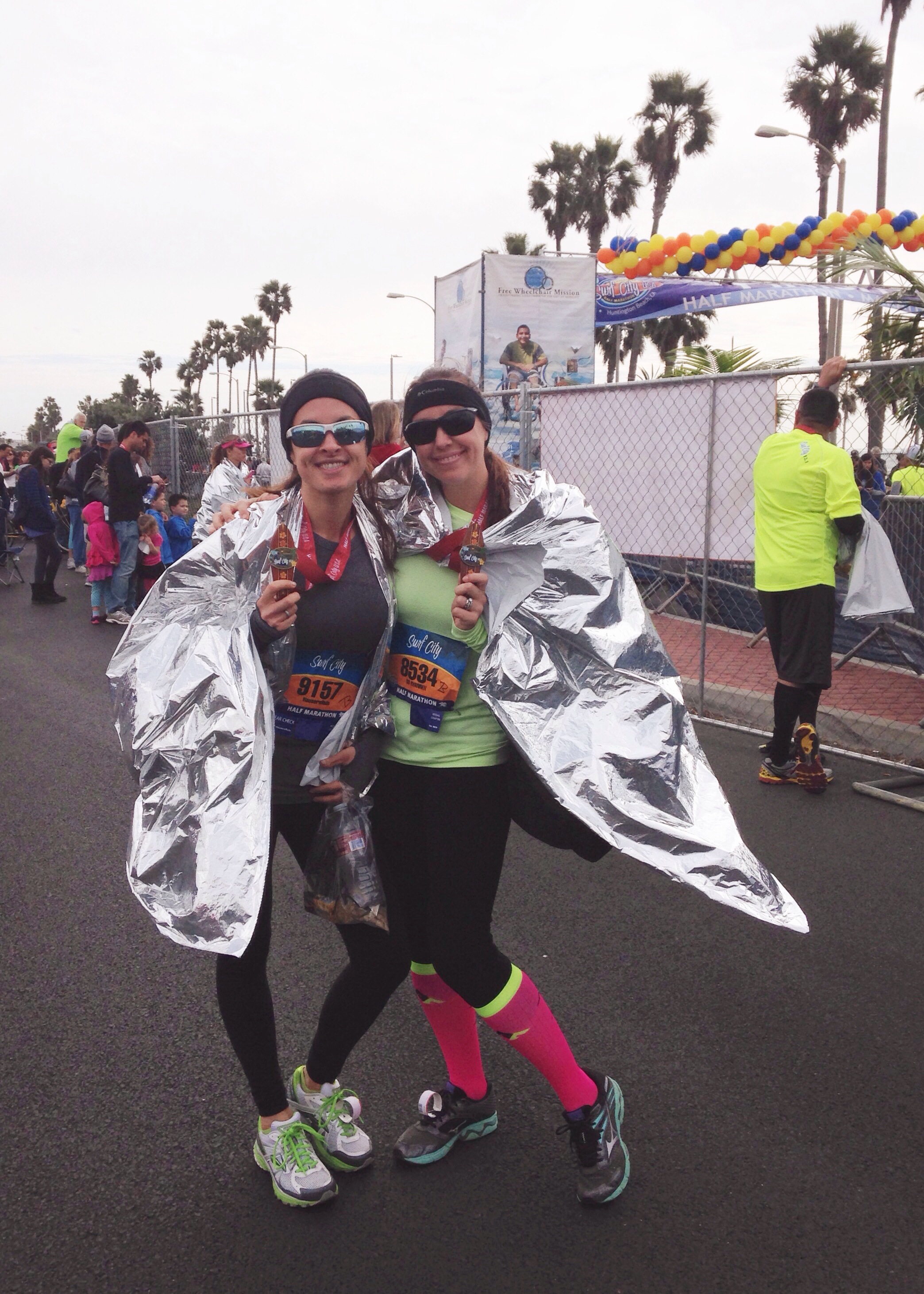 Here are my official stats from the race: