Hi everyone, I hope you're having a great start to the week!  I am just playing catch up after having a busy weekend and surprisingly have found myself with 10 minutes to put together a quick blog post.  So what better of a post than to share what I received in my most recent Stitch Fix.
If you don't know what Stitch Fix is definitely head on over to check it out!  You fill out a complete style profile, and when you're in the mood to get a "fix" you pay a $20 styling fee, pick a date, and give a description of what you would like to receive and your stylist does the rest.  When you receive your delivery you can try on all the clothes in the comfort of your own home,  keep what you love and send back what you don't.  Your $20 styling fee goes right towards whatever you decide to keep and if you keep everything you get 25% off your entire purchase.
Here I am on probably my 5th or 6th Fix and I am still enjoying every minute of it!  I am one of those crazy woman who actually despise going to the mall.  I don't like crowds, lines, making up my mind, wasting time, all to come home 3 hours later with one thing that I end up returning because it looks like everything else I have.  This takes all the work out of it for me, saves me so much time, and gets me to step outside of my comfort zone when it comes to style.  My favorite pieces in my wardrobe have all come from Stitch Fix.  Still haven't tried it yet?  Just head over and fill out your Style Profile and see what all the fun is about!
So truth be told I actually got this last Fix over a week ago, but have been so swamped that I was unable to post about it in order to get some help selecting what I should keep.  So I had to :::gasp::: make my own decisions and I think I kept the right pieces.  So here you have it…my August Stitch Fix Review!
Loveapella- "Meelah Tulip Hem Maxi Skirt"- $68.00.  Status:  SENT BACK
I liked the idea of this skirt because all maxi skirts look the same, but I just couldn't get into this.  I wasn't really a fan of the color, and the fabric was super casual yet the slit made it too dressy for me to wear to like preschool pick up.  I just knew I wouldn't ever wear it so this one went back.
Kensie- "Sophia Distressed Skinny Jean"- $88.00- Status:  SENT BACK
These were a tough call.  I liked them, they fit well, was into the distressed look and the color…but I think the back pockets were bugging me and wasn't a fan of the higher waistline. They just didn't do anything for my already flat butt lol.  Not going to lie, for $20 I'm still a fan of Old Navy's Rockstar skinny jeans.  Had to reluctantly say bye-bye to these.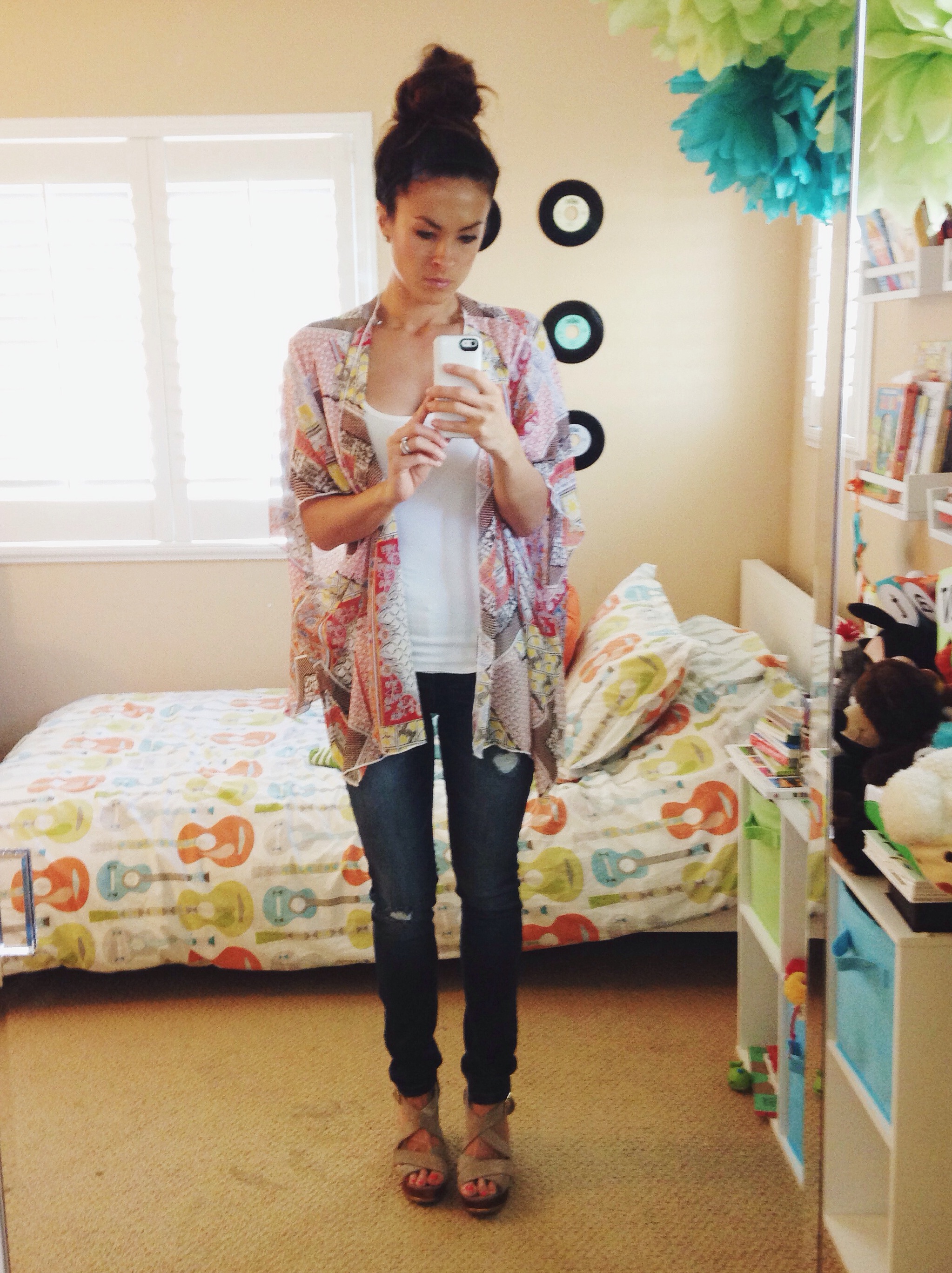 Daniel Rainn- "Portero Graphic Print Scoop Neck Blouse"- $68.00- Status:  KEPT
So when I took out this shirt I immediately thought of my friend Whittney.  I always love what she gets in her Stitch Fix deliveries and this reminded me so much of her style.  Of course when I sent her the photos of my stuff (because we immediately text one another our fixes) she told me I HAD to keep this shirt.  Even though it was something I normally wouldn't pick off a the clothing rack, I realized that was the whole point to this!  I knew I would like it if I saw it on her…so I decided to keep it.  The back is sheer which I really liked, especially since they sent a cute black cami to go under it.  I haven't worn this yet…but I know I will.  This was just barely a keeper, but I'm glad I did.
Creative Commune- "Miranda Bandana Print Racer Back Tank"- $64.00- Status:  KEPT
I love this racer back tank!!  It was an instant keeper.  The fabric in the front feels silky and dressy, but the back is a grey jersey material.  I think it's such a fun play on fabrics because it can be totally dressed up or down.  I'm always a sucker for anything racer back so it had me there too.  I have already worn this twice, so I know I made the right choice in hanging this one up in my closest immediately!
Papermoon- "Mauna Mixed Print Sheer Open Cardigan"- $38.00- Status: KEPT
Really Lauren?  Another kimono?  I just had to!  I loved the fabric, the print, and the cut is a bit different than the others I have.  And for $38.00 this one of the least expensive items I have received and one of my favorites.  I have also already worn this so I know it was a good decision!  I swear….this will be my last kimono!  You hear that Stitch Fix?  Please don't send me another!

And there you have it!  I am excited to see all the new fixes that will be coming out on all of your blogs soon, especially with the changing of seasons!  Thanks as always for checking out mine!  Happy Monday all…and hey, maybe Ill be back tomorrow with a long overdue Treat Yourself Tuesday!