Holy smokes you guys…Valentine's Day + my birthday + plus a weekend + falling off the clean eating wagon= total stomach disaster!  I think I spent most of yesterday dragging myself along, wanting to sleep, and listening to my stomach talk to me.  Don't get me wrong, I had such an awesome time but I sure paid for it!  I will show you some of my indulgences on tomorrow's Treat Yourself Tuesday!
For now how about I share how I plan to get back on track this week?  I started off the morning with a major bootcamp butt-kicking session and have been chugging water and eating clean all day.  I sat down and used my new fun meal planning notepad to get organized for the week…cute right?  See what's on the bottom there?  That's right we are off to Vermont for almost 2 weeks and I definitely need to hold tight to some of my favorite clean eating recipes to prepare while staying with my family.  Here are some good ones that I have on this week's lineup before we head out of town.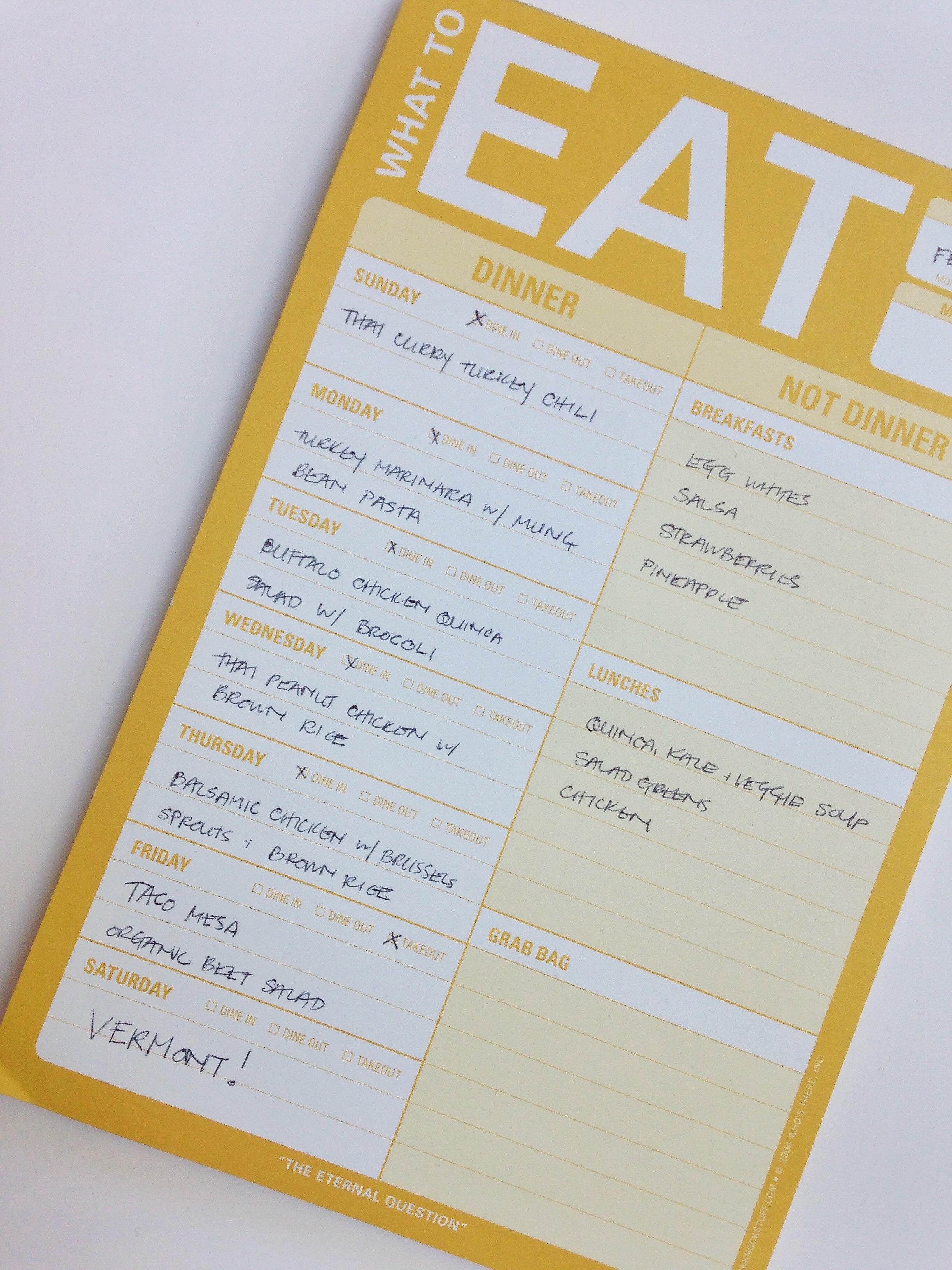 Monday Meal Plan for the week of 2/16: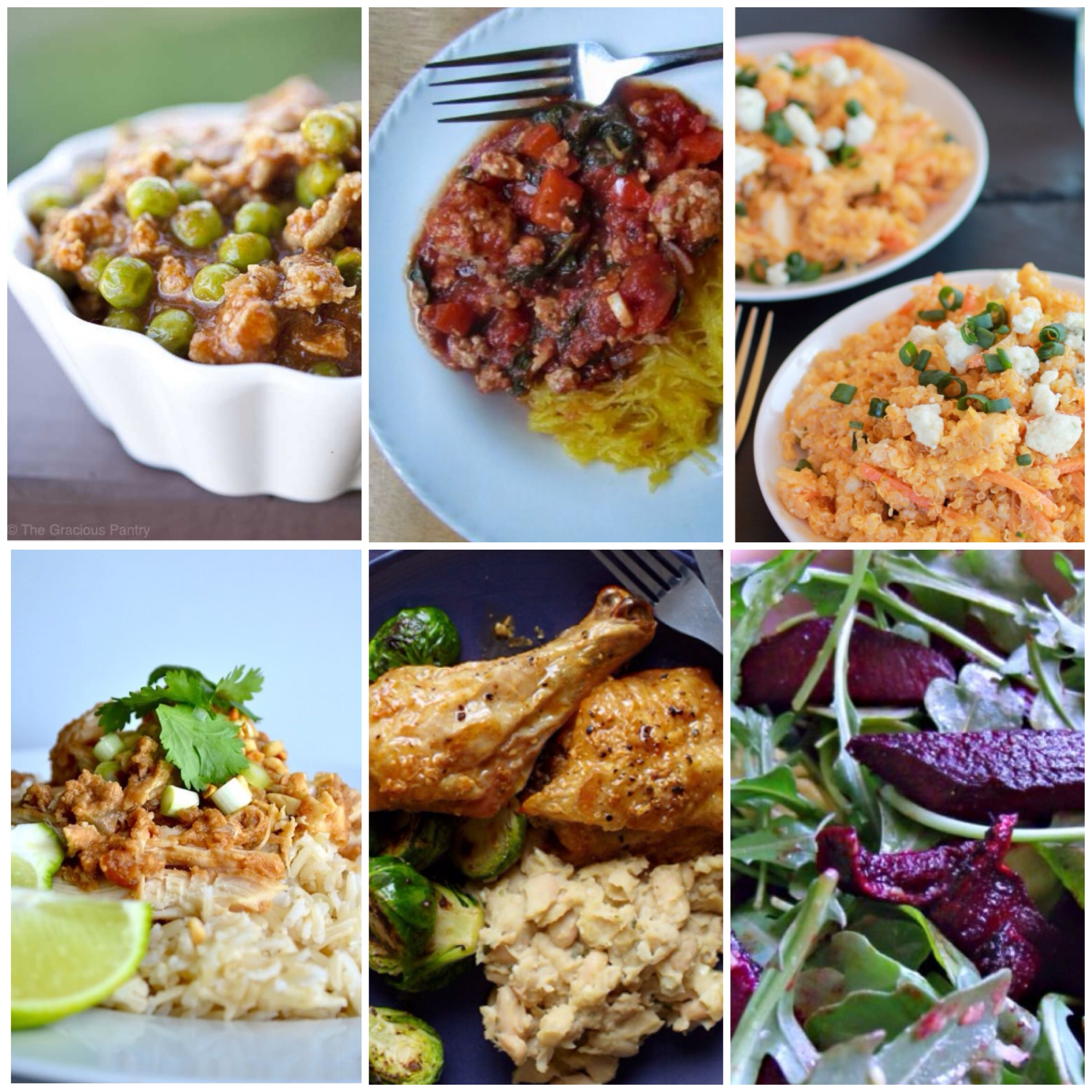 Sunday- Thai coconut curry turkey chili over brown rice
Monday- Ground turkey marinara over Mung Bean Pasta <—-have you bought this yet?!?!  If not, get on it…there may be a shortage because my Advocare Facebook group of 500+ people are ON IT!!  We are all in love with it.  I was joking that I should have bought stock in Mung Beans lol.
Tuesday- Buffalo chicken quinoa salad.  Of course without the stinky blue cheese.
Wednesday- Thai peanut chicken in the crockpot.  If you haven't tried this one yet you are SO missing out.  This is our very favorite meal and you will be seeing this recipe posted every week.
Thursday- Balsamic crockpot chicken with brussels sprouts and brown rice.
Friday- We are flying out on the redeye and making dinner will be the last thing on my mind.  Planning on a organic beet salad with blackened chicken from our local Mexican restaurant.
Lastly I wanted to leave you with a super simple recipe I whipped up for Valentine's Day.  Greg and I celebrated at home with wine and chocolate covered strawberries…but at least our meal was clean right?  It felt like we were dining out…and just like all clean recipes it was so easy and quick to make.  Enjoy!!
Clean eating Lemon and Garlic Shrimp Scampi 
Ingredients:
3/4 pound cleaned and uncooked shrimp
juice and zest from 2 lemons
2 tablespoon olive oil
4 cloves of garlic minced
1 tablespoon dried parsley
1 teaspoon garlic powder
1/4 cup chicken broth
Mung bean pasta
Parmesan cheese (optional)
Directions:
Prepare Mung Bean pasta per instructions on package
Heat oil in a large skillet and add all the ingredients but the shrimp.  Let them simmer for a little so some of the liquid boils down.  Add shrimp and cook until pink.  Drain mung bean pasta and toss into skillet with all the other ingredients.  Serve with parmesan cheese and asparagus.  Serve immediately and enjoy!
I don't even like shrimp but I LOVED this!  Greg totally gave it two thumbs up and felt like it was a special meal since I normally don't make seafood.  I will definitely be making this one more often and hope you give it a try too!
I hope you all have a happy and healthy week!!