Happy Meal Plan Monday everyone!  I hope you all had a great weekend.  We had a little too much fun so it's time to get back on track with clean eating for the week.  You will often hear me talk about trying to stick with an 80/20 plan when it comes to eating clean and let's just say we definitely got in our 20% of the not-so-good stuff over the weekend.  Here's what I have lined up for dinners this week….I think you'll agree that the other 80% sounds pretty darn tasty too!
Sunday- Crockpot Buffalo chicken & broccoli over quinoa
Monday- Red curry and coconut tofu & veggie stir fry over brown rice
Tuesday- Thai chicken lettuce wraps with a peanut ginger sauce
Wednesday- Fresh mango salsa over pan grilled halibut and brown rice (recipe below)
Thursday- Crockpot whole roasted chicken with roasted Brussels sprouts and sweet potato hash
Friday- Crockpot Thai peanut chicken over brown rice (yes, we eat this every week…don't judge)
Saturday- Grilled chicken and pesto Mung bean pasta
I wanted to share the recipe I used in making mango salsa last week.  It was SO good I could have eaten it by the spoonful but you could also put it on top of chicken, pork, fish….anything really.   I seasoned up some tilapia, threw it on the grill pan, and served it with brown rice and put this salsa right on top.  It was amazingly good!  Shane couldn't even take breaths between each bite he was scarfing it down so fast!  That is an automatic win in my book when the kids love it!  Oh, and check out my awesome knife skills!!  I WISH….you need to run to Amazon and buy one of these Vidalia Chop Wizards!  A sweet friend from my Advocare Facebook group surprised me with this last month. I always commented on how beautiful her salsa photos looked and she let me in on a little secret!  Amazing right?  I want to chop up everything!!
CLEAN EATING MANGO SALSA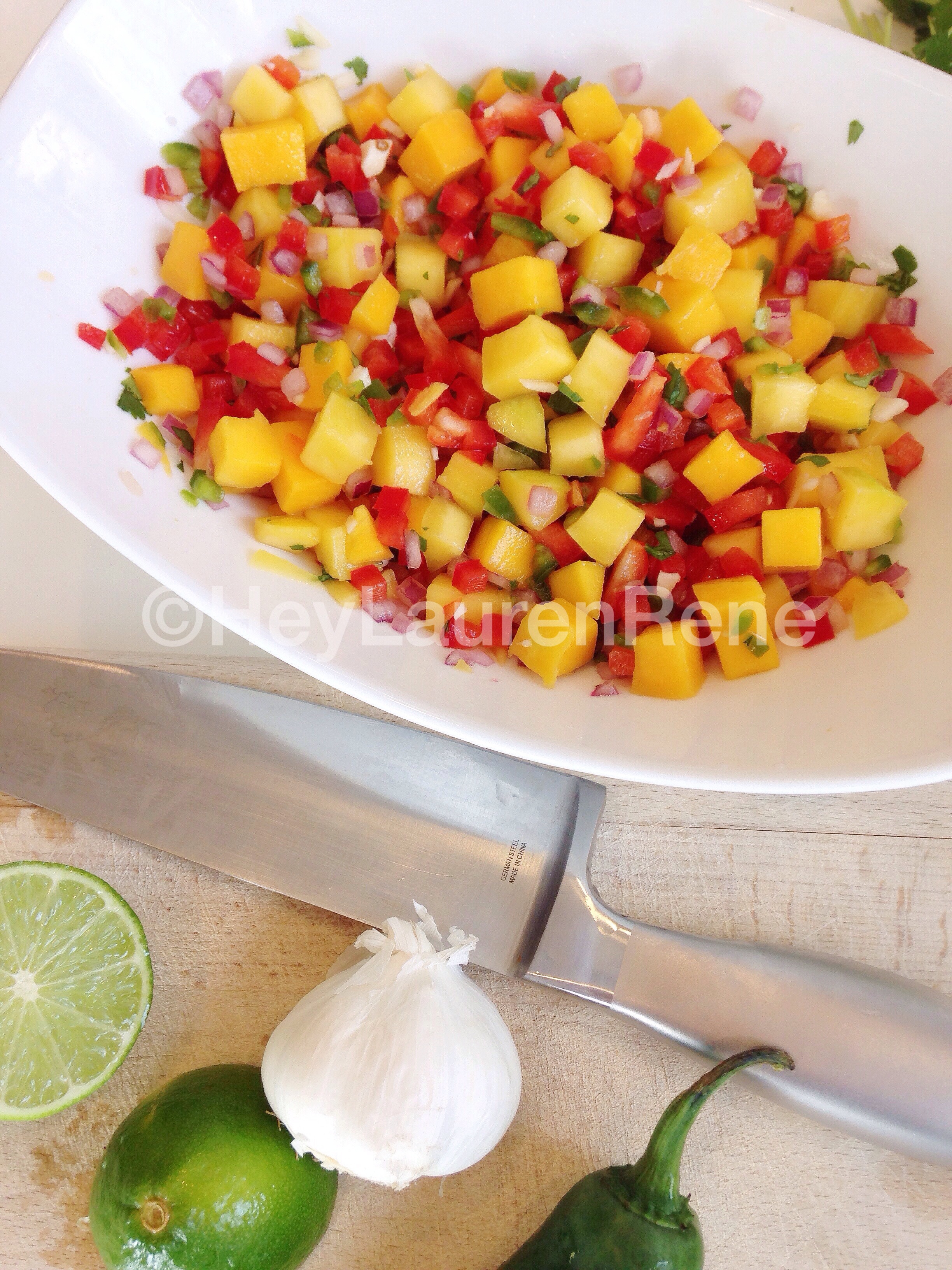 Ingredients:
2 ripe mangos chopped
1/4-1/2 small red onion chopped
1 red bell pepper chopped
Juice from 1-2 limes (flavor preference)
1 jalapeño pepper seeded and chopped
1 clove minced garlic
Sea salt to taste
Mix all ingredients together and let chill in the refrigerator until ready to serve.  So simple and SO good!!
I hope you try out some of the recipes and let me know what you think.  These are a few of our favorites and I am always trying new meals each week…I promise to only share the best ones!

***Just a side note we are starting another group 24 Day Challenge on April 7th.  I will be participating in the 10 day cleanse portion of this with everyone and then of course continuing on with my clean eating and supplements beyond the cleanse.  We seem to be hosting monthly challenges at this point, but I am excited to be joining in on this one!  If you have been on the fence, or have come up on your 90 days between cleanses, totally come join forces with us….we would love to have you***
Have a happy and healthy week everyone!!