I know every family runs dinner time differently in their household, but around here I like to have every day planned out ahead of time.  I'm terrible at doing laundry, you will never find me scrubbing anything, I don't think I've ever emptied a trash can and our bed is only made when I know people are coming over.  Crafty?  Sure!  Domestic? Not even close.  But I will make an exception when it comes to dinner…it's always planned, and always ready by the time Greg gets home from work.  I don't think he has any expectations for my day besides making sure our kids survive so I know he really appreciates this after he has had a long day.   Twelve hours of our day are spent on completely different wave lengths, and when our worlds collide at 6:00pm, sitting down to dinner as a family is the best way for us to get back on the same page.  We may only get 10 minutes to actually eat our food, and sometimes dinner is spent standing around our kitchen island but we know this routine will get easier and easier as the boys get older.  It's important to us, so we try our best.
Since changing to eating primarily clean meals, I've also found that planning ahead makes all the difference.  I used to buy a lot of premade foods from Trader Joes to make preparing dinner easier.  Frozen meatballs, premade stuffed peppers, frozen turkey meatloaf, etc.  At the time I thought we were eating fairly healthy (I mean isn't everything from TJ's healthy?), and I loved being able to throw these items together last minute with some side dishes, but now I know that dinner can be just as quick without taking the less healthy short-cuts.  The best part is Greg hasn't noticed any difference in the taste and portion department, but he has noticed a difference in how his clothes are fitting him.  Since the new year he has lost almost 30 lbs on our diet changes alone!!! It's truly shocking to both of us that this lifestyle change has made such a huge difference to our bodies without actually feeling like we have changed anything at all.  I'm not going to lie we have cut back on alcohol.  WAYYYYYY back!  I think I can count on 1 hand how many times we have had drinks the past 4 months in comparison to having wine/beer a few nights a week to unwind.  I'm sure as the warm weather approaches we will find ourselves outside with a drink in our hands, but for now this hasn't been a difficult change to make.
There are so many awesome resources out there now for clean eating recipes, but like any creature of habit, I have found our favorites and just rotate them throughout the weeks.  I'd love to know what some of your favorite "go-to" meals are during the week.  Do you meal plan?  If so, what's on this week's lineup?  I try to do one new recipe a week and will add it to the rotation if it ends up being a hit.  I'd love to hear new ideas!
Here is what I have planned for the week:
Monday- Hummus crusted chicken with roasted veggies
Tuesday- Zucchini turkey meatballs, marinara sauce over spaghetti squash (over brown rice pasta for boys)
Wednesday- Chicken fajitas with guacamole
Thursday- Rosemary pork with a sweet potato/mixed veggie quinoa side
Friday- Southwestern chicken and bean chili
Saturday- Buffalo turkey burgers and sweet potato fries
Sunday- BBQ!!  Chicken kabobs and grilled veggies
I just realized it's not very nice to talk about all this food without sharing a recipe too.  I made a new quinoa salad last week that was great!  I suggest making a large portion of it…I was able to stretch mine out for a dinner meal for the family and then had enough for lunch the next 2 days.  Hope you enjoy!
VEGETABLE QUINOA SALAD w/ FRESH BASIL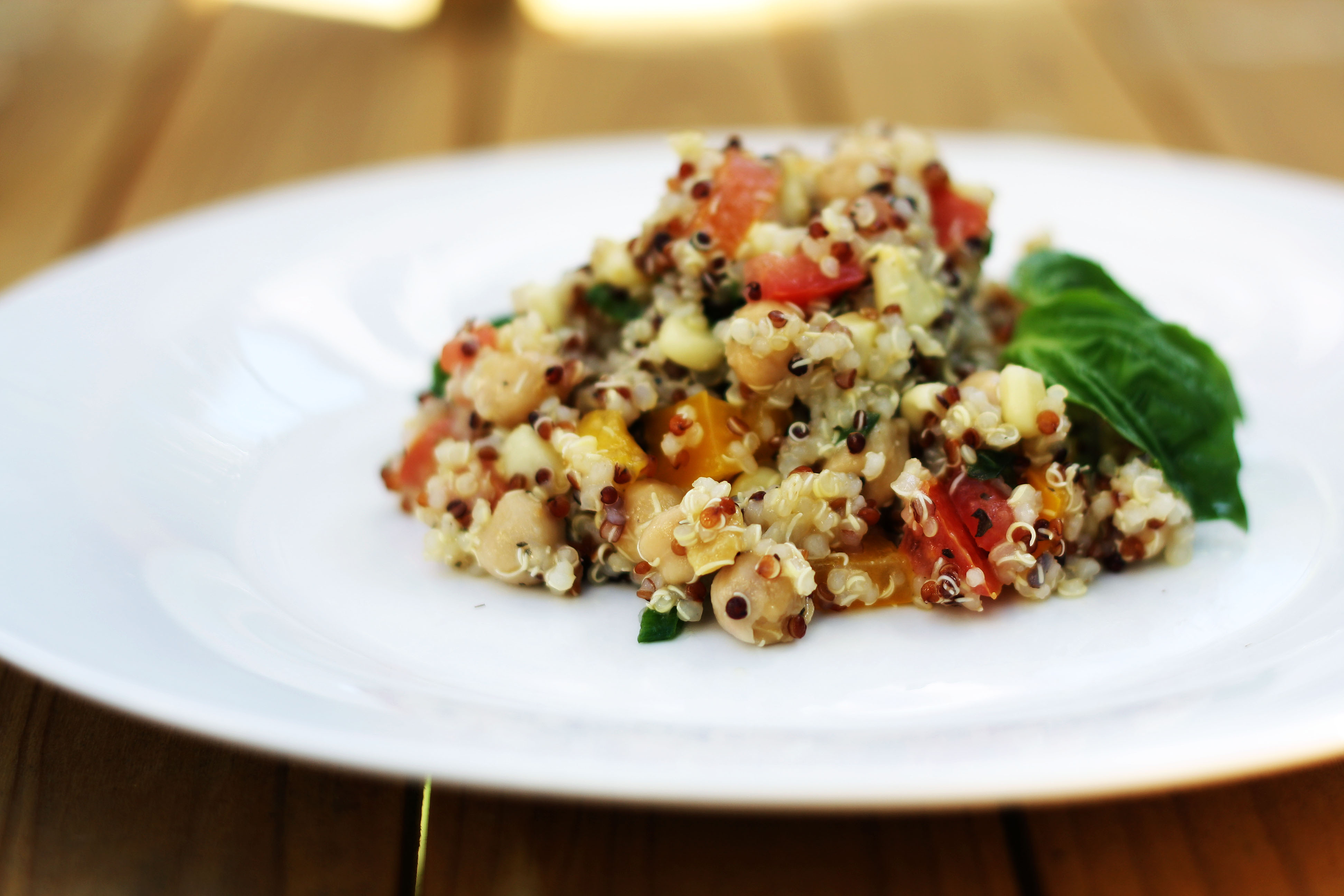 Ingredients:
1 1/2 cups uncooked quinoa (I used Trader Joes Organic tricolor quinoa)
1 can garbanzo beans, rinsed and drained
3 roma tomatoes chopped
1 yellow bell pepper chopped
1 1/2 cups corn
3-4 green onions thinly sliced
1 handful fresh chopped basil
2 Tbsp olive oil
2 Tbsp fresh lemon juice
2 Tbsp apple cider vinegar
To prepare:  Whisk together the EVOO, lemon juice and vinegar and set aside as dressing.  Prepare the quinoa as stated on the package. While quinoa is cooking prepare/cut the above listed vegetables and throw into a large mixing bowl.  Once quinoa has slightly cooled add to the cut veggies and toss together with dressing.  Enjoy right away or keep refrigerated until ready to serve.