party
It's been awhile since my last post…I've been up to my neck in plastic Easter Eggs!
Two years ago I took Nathan to his first huge egg hunt that one of the local churches held.  There were hundreds of kids there, baskets in hands, being held back by the neck of their shirts, ready to pounce as soon as the horn sounded to start collecting.  Nathan literally got trampled, and when I finally found him coming up for air, he had one measly little plastic egg in his hand.  Granted he thought it was the best egg in the world, but I was horrified by the rudeness of the some of these parents pushing kids out of their way and hoarding eggs for their kids.  As far as I was concerned I would be more than happy to never take my kids to one of those events ever again.
That year I decided I wanted to start having our own egg hunts for the boys and their friends as a yearly tradition.  When I was younger our neighbors always threw candy and eggs in their yard for their children and friends.  It was something I always looked forward to, and thought it would be fun to continue this for my own boys.   All my mama friends bring a Springy snack to share, and I throw a couple hundred plastic eggs in the grass with goodies inside.  Here are some pictures from this year's fun!
As for yesterday, we had a nice, quiet Easter at home as a family and Auntie Marissa.  Nathan and Shane dove head first into their Easter baskets, had another little egg hunt in the backyard, and then decided to go for a run as a family since it was so beautiful out.  When we came back the boys played outside in their new Power wheels Escalade.  Well, new to them….our neighbors are moving and asked if we wanted it since their daughter had outgrown it some time ago.  Score for the boys!!!  They love it so much!
I put together brunch and mimosas and we sat outside and ate in the beautiful sunshine.  Not too long after finishing brunch I popped a ham into the oven that we enjoyed for dinner.  Just like every other holiday we spent the whole day eating and enjoying one another's company.  It was a great Easter week/weekend!  Hope those of you that celebrate had a wonderful one too!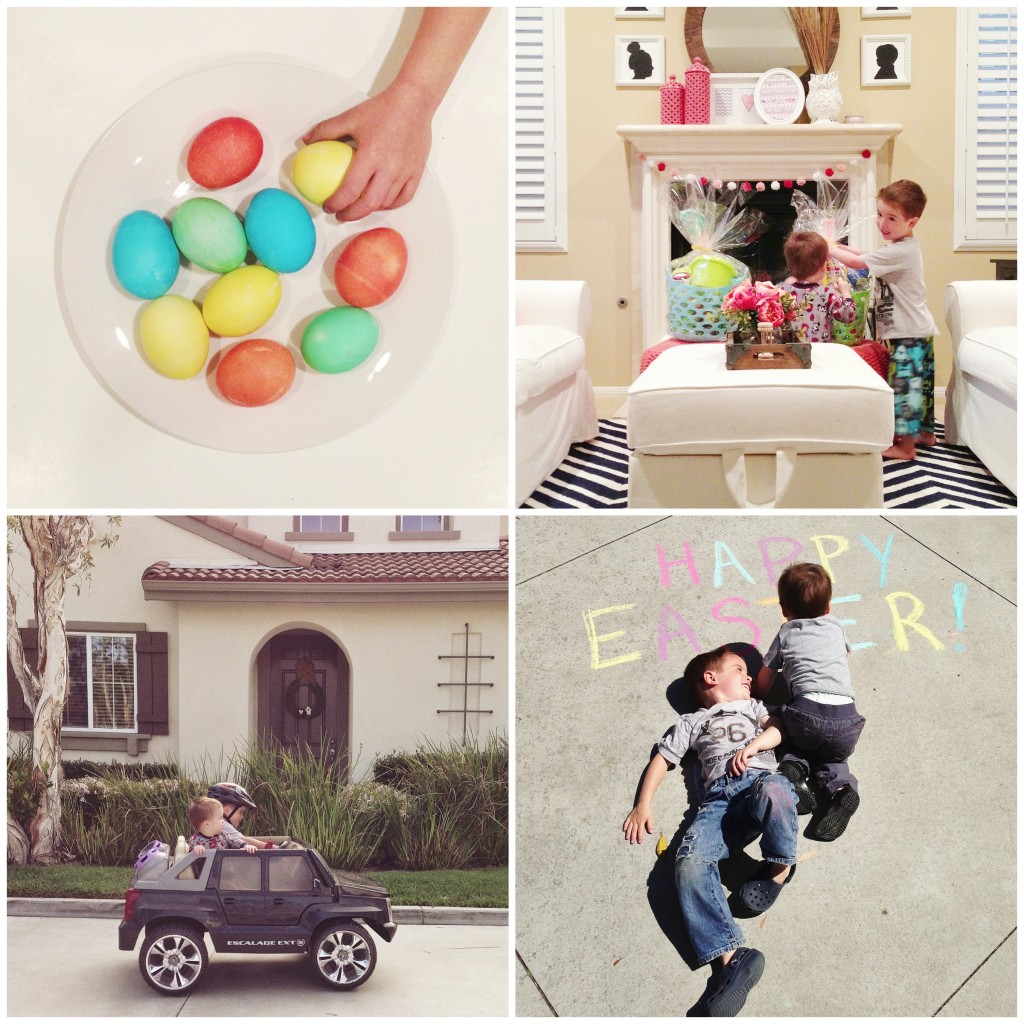 I'm pretty sure most people recap their weekends right after the weekend happens, but we do things late around here.  I think Sunday nights would probably be a good time to catch up on what we did over the weekend, upload some photos and write a new post…however, I was in bed asleep by 9:30 Sunday night from a full day of fun (and too many mojitos!).  At least that is evidence of a good weekend right?  And then of course I could always try and write a quick post on a Monday, but the boys were in rare form yesterday.  I'm almost positive Shane is transitioning to only one nap a day.  That would be fine if this one nap lasted more than 45 minutes.  Needless to say I chose eating my lunch instead of getting on the computer during my "break".
Anyway…I personally like to think the weekends start on Friday, especially when Daddy was traveling all week for work and was flying in during the early afternoon.  Before he got in, we met our friends at the mall to try and get a photo of our kids with the Easter Bunny.  To say Shane was scared of the Easter Bunny would be  the understatement of the year…he was petrified!  Shaking, screaming, inconsolable and wouldn't even look at him (it was a pretty creepy looking bunny so I'll give him that).  I thought his phobia of Santa was bad!!  At least with Santa I could get the funny photo of the baby crying on a strange man's lap….but this time I couldn't even get within 5 feet of the bunny.  My friend's oldest daughter Ella also isn't a Santa or Easter Bunny fan so she sat this one out too.  Oh well, Nathan got to take his photo with Ella's new baby sister Lilah.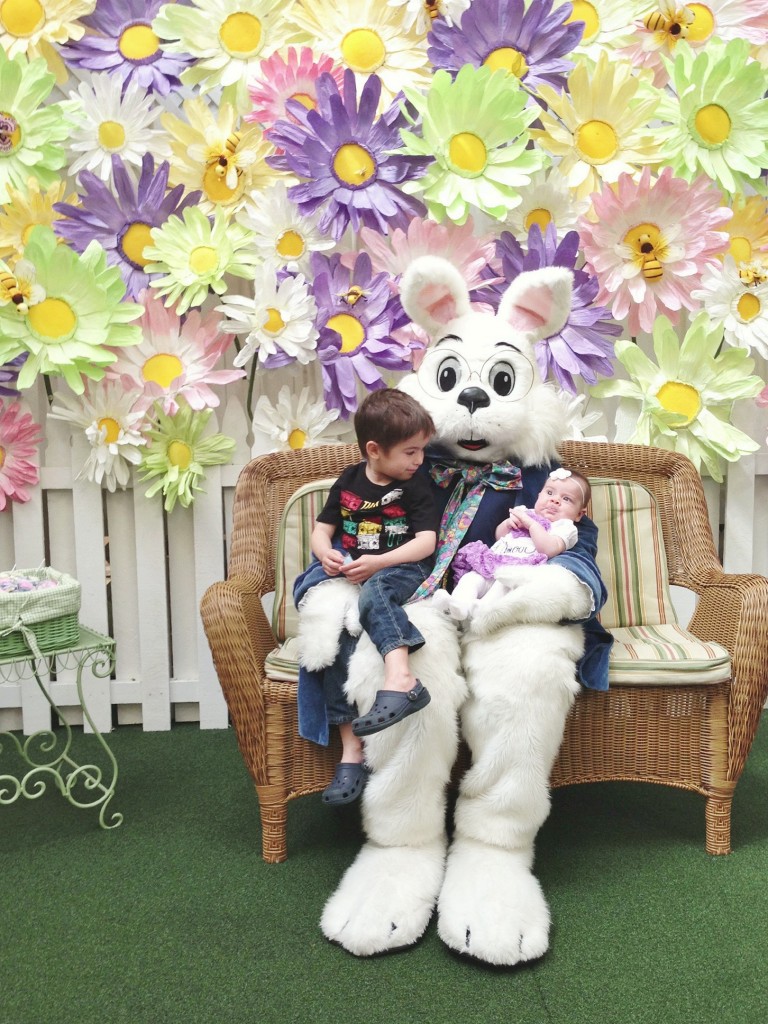 Saturday I made it to Turbo Kickboxing in the morning.  I've been doing TKB for over 8 years now and still love it as much as I have from the very beginning.  I actually get excited to go, which I really can't say for any other workout I have ever done.  After I got home Nathan went to his swim lesson, and hurried home so we could walk down to the neighborhood Spring Celebration.  We ended up meeting several of our friends there and had an awesome time.  Here are some photos from the day.
Yes, that is Nathan pictured with his best bud Carson instead of his own brother with the Easter Bunny.  Despite there being a less scary looking bunny Shane was definitely not interested!  After the festivities the boys went down for naps, and I ran out to The Home Depot with Nana again.  I am now obsessed with our tiny little garden and just had to get out for more supplies.  We bought some hanging flower pots, got a large pot for my tomato plant, and added a kumquat tree!  I really hope I can keep everything alive!
Sunday we woke up early and met our neighbors for our weekly run.  Our neighborhood has a facebook running page and we reluctantly joined it a few months ago.  I would always see them meet for a run on Sunday mornings and never thought I would actually join them let alone, ENJOY going.  After the run we went out for brunch, and then got ready to head to our neighbors house for another fun-filled Easter afternoon.  The parents indulged in yummy drinks, March Madness and a BBQ while all the kids dyed eggs, decorated cookies, and tossed around water balloons.  We actually ended the evening with a huge water balloon fight in our driveway….adults included.  It was such a fun way to end an awesome weekend!  Already looking forward to the next!