Linking up with Becky from Olives 'n Wine again this week for another Treat Yourself Tuesday Post.  Remember my first post that I did a couple of weeks ago about finding some time to pamper yourself?  Well, I wish I could say I have been following through with that.  The kids have been sick, our dog has been sick, I have been sick and I am lucky if I have treated myself to lunch or a shower this past week.  That being said….I did decide to treat myself to something a few weeks ago, that couldn't have shown up at a better time.  My very first Stitch Fix!
If you don't know what Stitch Fix is definitely head on over to check it out!  You fill out a complete style profile, and when you're in the mood to get a "fix" you pay a $20 styling fee, pick and date, and give a description of what you would like to receive and your stylist does the rest.  When you receive your delivery you can try on all the clothes in the comfort of your own home,  keep what you love and send back what you don't.  Your $20 styling fee goes right towards whatever you decide to keep and if you keep everything you get 20% off your entire purchase.
My birthday is coming up in a couple of weeks and I thought it would be a great time to get my first fix.  I asked for some cute birthday date night tops (or whatever else they thought would fit the bill).  Greg has actually stepped up the birthday plans since I requested this so I decided on renting a dress from Rent the Runway instead for my night out, but I am still excited to hear what you think about what they sent me.  Take a look below and I would LOVE to hear your feedback regarding which you think are keepers and which you would send back.  I have 3 days to make up my mind so please help a mama out!!
1.  Dellora Zig Zag Blouse – $58.00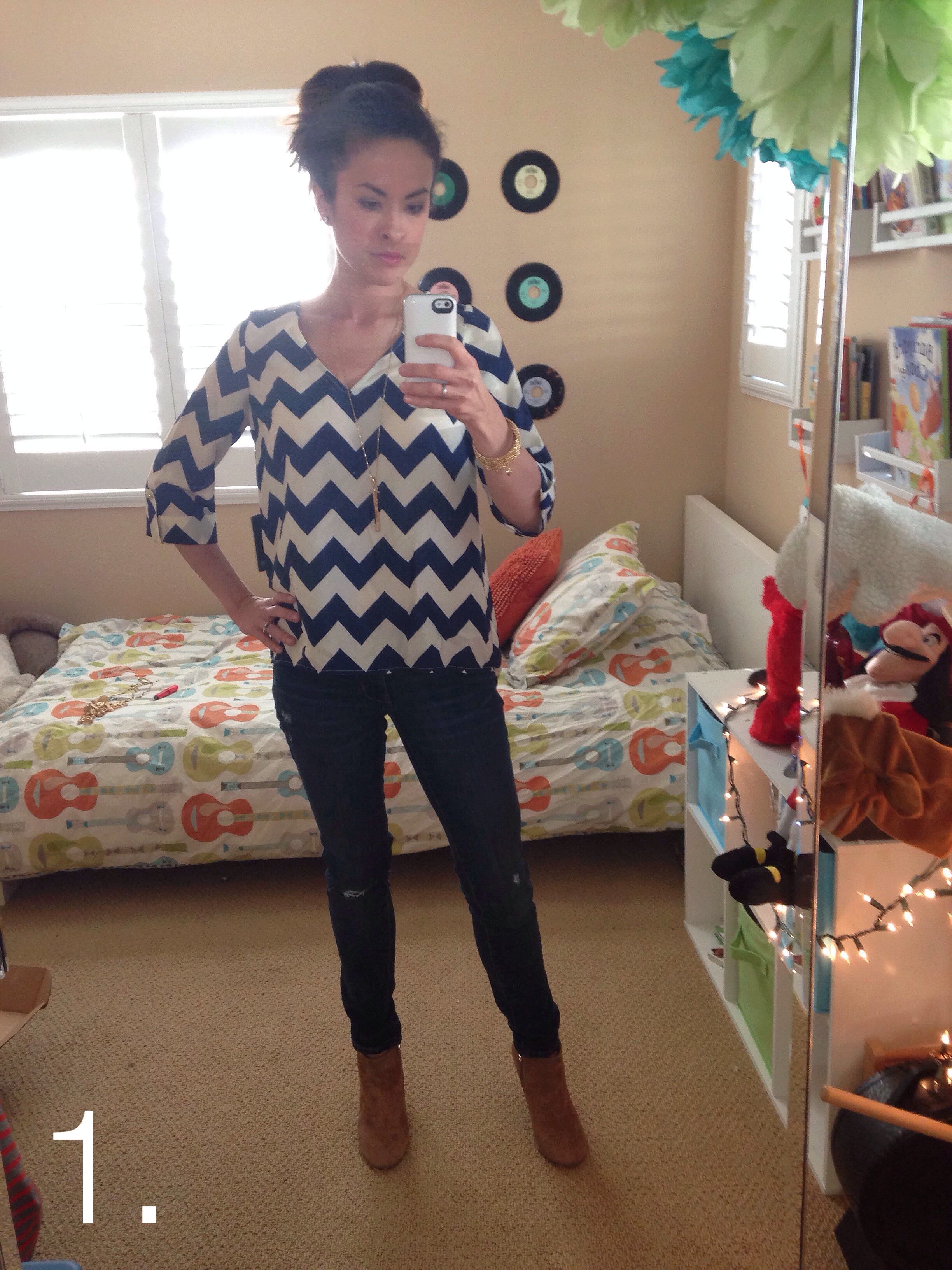 2.  Esten Button-up sleeveless blouse- $58.00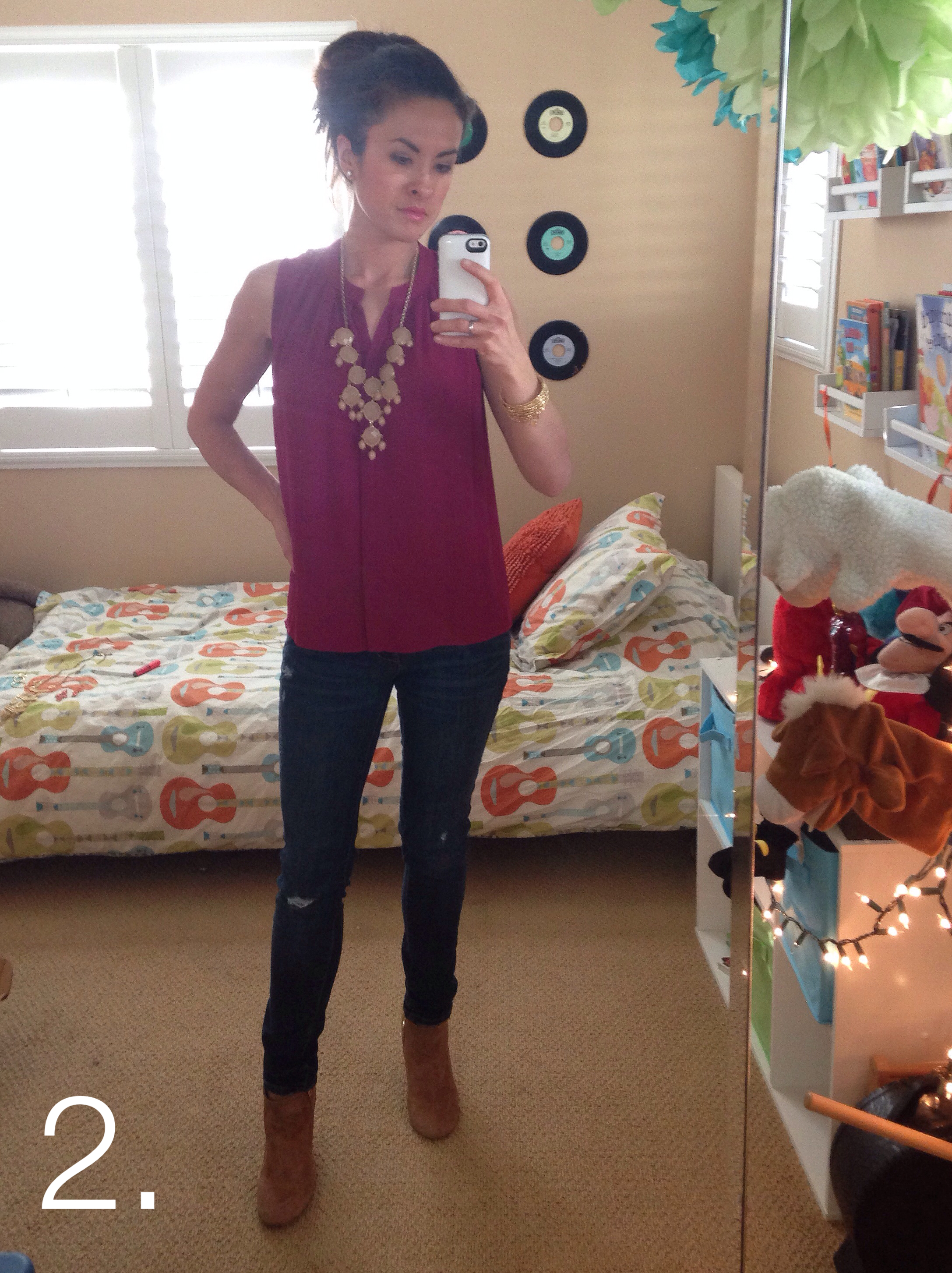 3.  Breyson Open Circle necklace- $32.00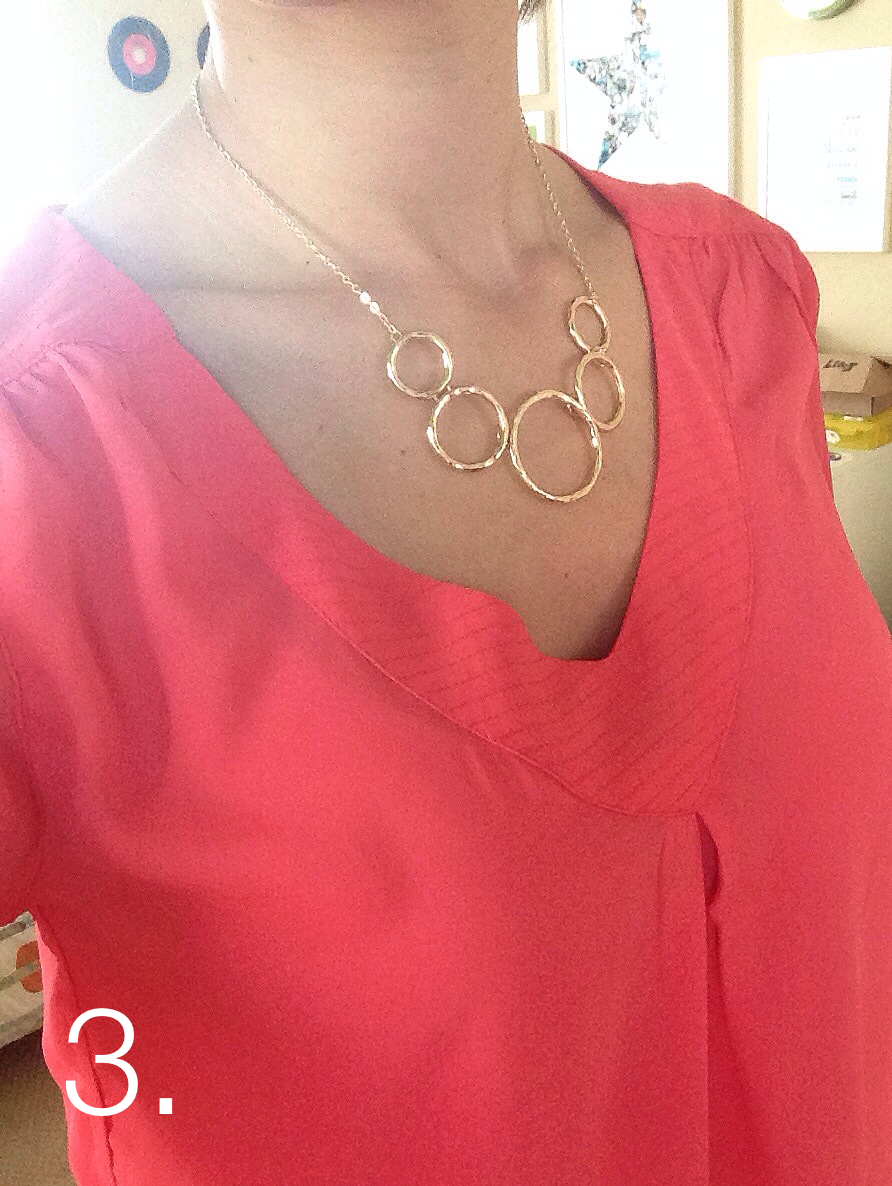 4.  Valencia V-neck 3/4 Sleeve blouse- $68.00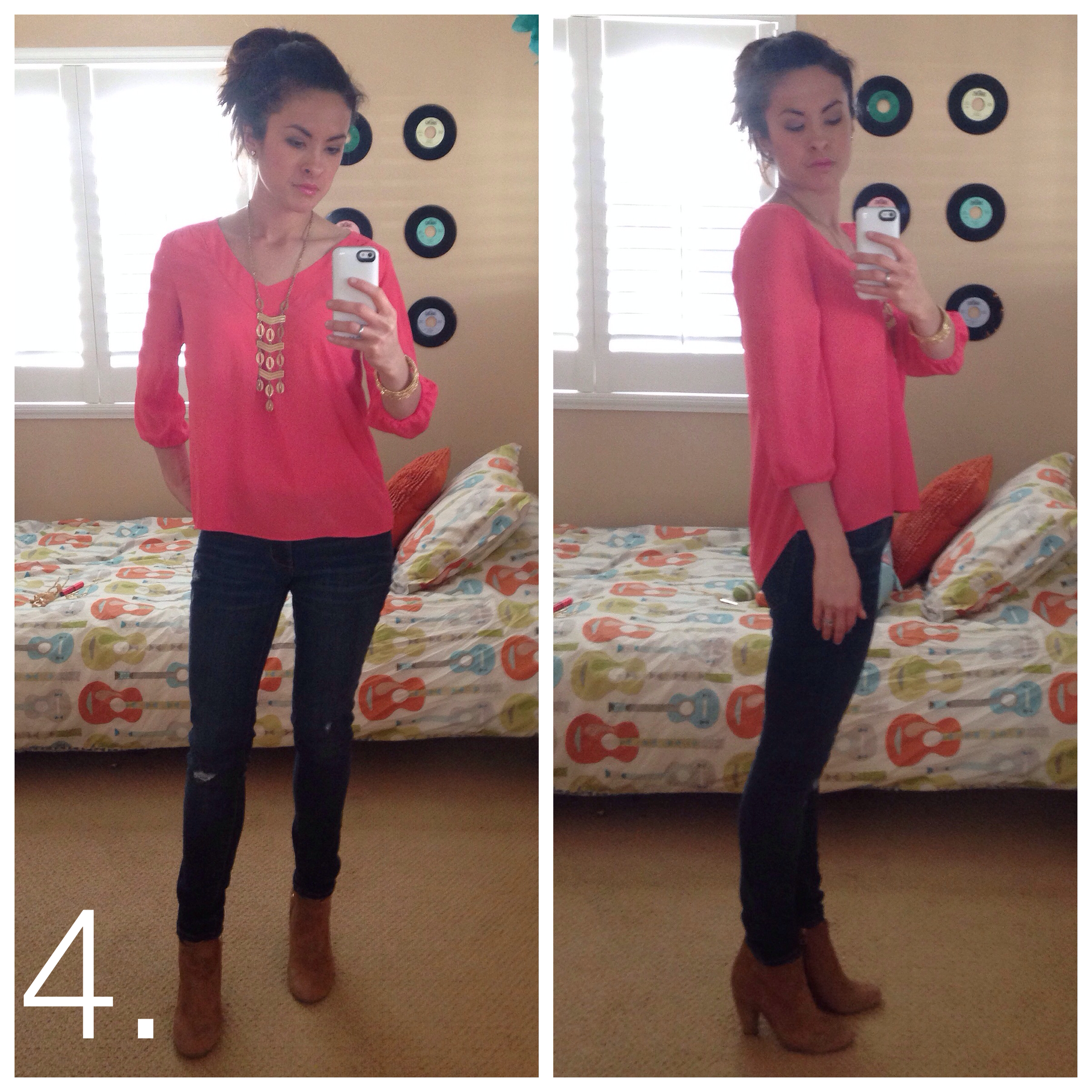 5. Hilde Geo Print Faux Wrap dress- $128.00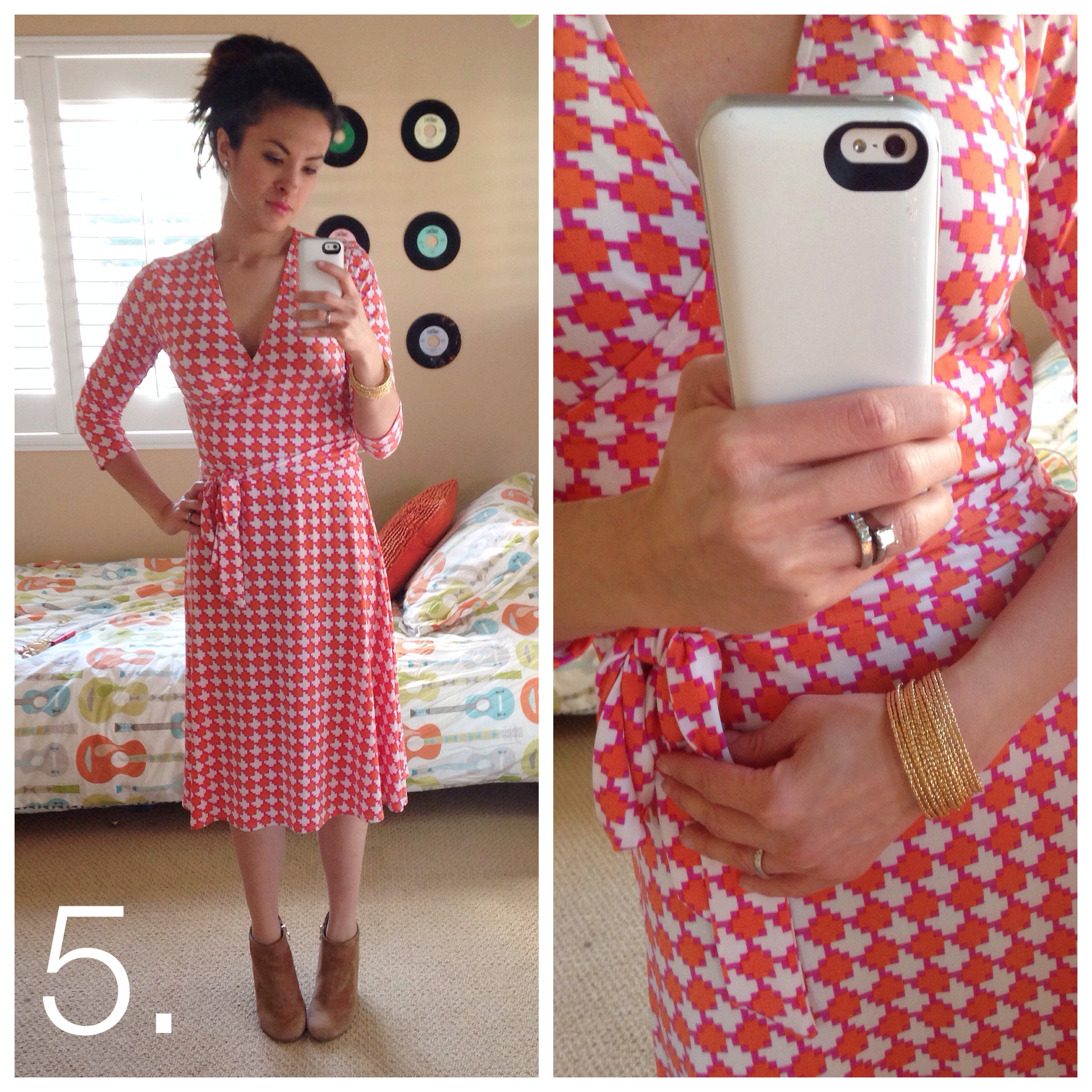 So what do you think?  I am actually pleasantly surprised by everything my stylist sent to me.  I don't think I would have picked any of these off the rack myself, and even when I fist opened the box I wasn't sure what I thought of the items.  Once I tried them on with my own clothing, and some of my accessories they started to grow on me, and now I *think* I know what I am going to keep and what I am going to send back…but, as always, your opinion usually has the final say so please chime in!   I love that they even sent me the nicest personalized note with style cards ideas of how to wear the pieces they sent.
I will for sure be ordering from them more often!  The next fix I am going to ask for more casual, everyday pieces and see what they send…stay tuned!  It's such a fun service for a few special pieces here and there.  I love that you don't have to commit to ordering a specific number of times, and you aren't obligated to keep anything they send to you.  This service is so perfect for someone like me who just wanders mindlessly through the mall, only to leave with one boring and basic item.  Not to mention this was way more fun than trying to shop with two impatient kids, and the anticipation for what they were going to send me was so exciting!  I literally screamed when I saw the box on our doorstep!
So please let's hear your opinions….also, when you have a free second head over and at least treat yourself to setting up your own style profile HERE.  Even just doing that part was a treat for me, and I actually let my profile sit for awhile before I got the itch for my first fix!
So that's all for my Treat Yourself Tuesday post…stay tuned for my Surf City Half Marathon race recap.  I was going to write that while it was fresh in my head but I only have 3 days to decide on these clothing items and that's so much more important than running 13.1 miles wouldn't you say?

 Thanks for reading along and I look forward to some input!  Have a great week!